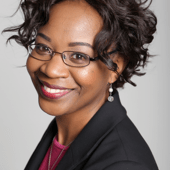 Petunia Thomas
Consultancy Partner
Pronouns: She/Her
As a D&I expert, Petunia provides advice and consultancy to clients on a range of D&I themes and challenges to promote strategic and coherent approaches and sustainable outcomes. She facilitates unconscious bias, inclusive leadership, cultural competency workshops as well as women's career development programmes, and is an expert on reverse and reciprocal/mutual mentoring. 
She also delivers support on race and ethnicity, and has provided specialist support for the CIPD, the largest and foremost body of HR professionals in the UK, with anti-racism resources particularly around black lives in the workplace. 
She has her own suite of programmes, modules and learning interventions for leaders and staff, developed from years of experience and research relating to race, including talking about race, Race Fluency for Leaders, Sponsorship Programmes and Black & Ethnic Minority Talent Development Programmes.