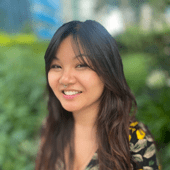 Naomi Hanson
Digital Marketing Consultant
Pronouns: She/Her/They
Naomi has over three years' experience in content creation and social media. Naomi is a creative individual with unique ideas and drive for communications. A recent graduate from the University of Leeds, Master of Advertising and Marketing, she has led several reports and projects, including a consultancy project on marketing towards international students with Leeds Bradford Airport.
Naomi is passionate about using marketing as a vehicle for promoting social change. In addition, she is a motivated self-starter, as shown by the creation of her own social media platform 'The here and Nao'. She has dedicated her time to running and promoting diversity, inclusion and advocacy for adoptee voices. This advocacy led to her being nominated as an 'Inspirational Asian Woman' by Resonate Voices, alongside other Asian women such as Gemma Chan and Katie Leung.
Naomi studied Linguistics for undergraduate and is a keen language learner, speaking English, French, Spanish, and beginner's mandarin. Naomi aspires to become a polyglot. In her free time, she enjoys creating videos, letter writing and exploring new cuisines.